"
Over the past three years, I have worked hard to ensure affordable access to healthcare for both adults and children in all of El Paso County, to provide our veteran community easier access to needed services, to make the County a respected leader in economic development, to support our employees and pay them what they deserve, and to make major investments in our parks, especially Ascarate Park.
I want to continue the good work I have been doing on behalf of Precinct 2, and I want to make sure El Paso County continues forward with the momentum we have built over the past three years. We are at a critical juncture, with many changes ahead, and we need strong leadership to make sure El Paso County doesn't return to the days of inefficiency, lack of direction and corruption. I hope I can count on your vote for another term as your County Commissioner.

David Stout
County Commissioner #2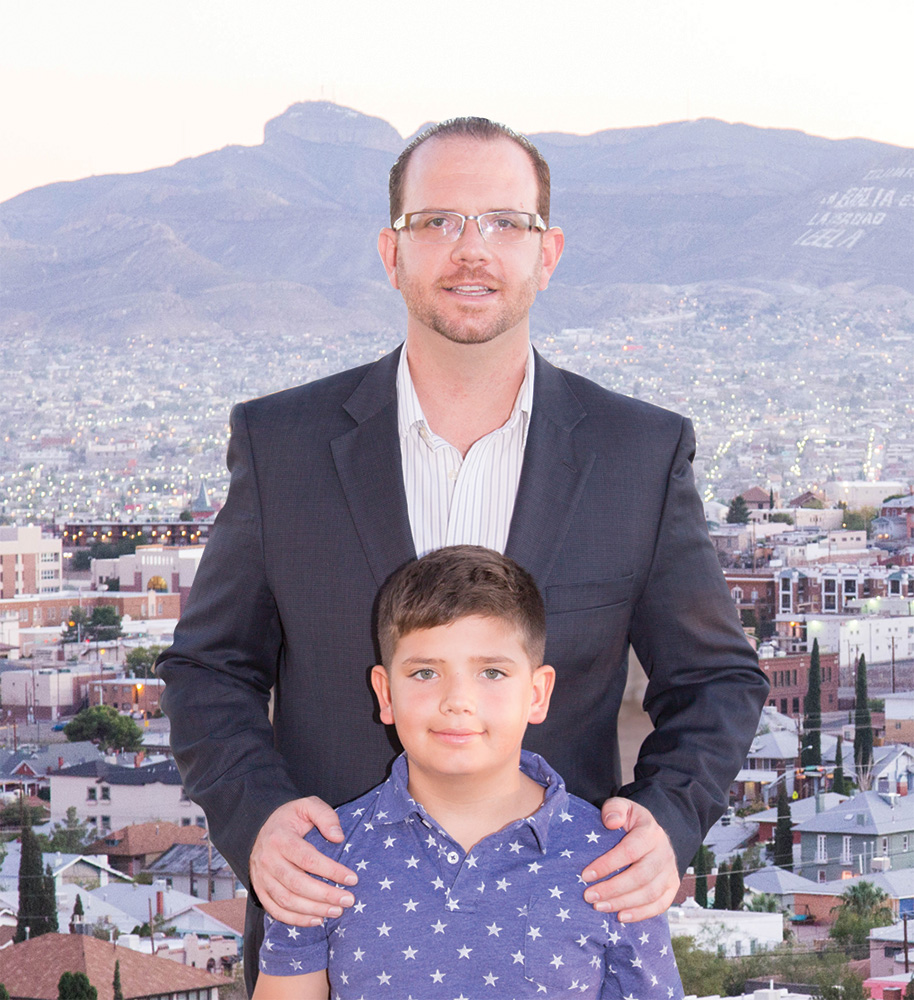 About David
COUNTY COMMISSIONER #2
David Stout was sworn in as El Paso County Commissioner for Precinct 2 on January 1, 2015. Prior to working for the County, he worked as a Bilingual Communications Specialist and Binational Affairs Liaison for Texas State Senator, Jose Rodriguez. Stout also worked in the communications field for the United States Conference of Catholic Bishops in Washington, D.C., and has close to a decade of experience in broadcast journalism, having worked with NBC, Telemundo and Univision. Though David is originally from Wyoming, he fell in love with the El Paso area after spending a semester in the borderland as part of the Master's Degree in Latin American Studies he received from the University of New Mexico in Albuquerque. He always wanted to come back to this amazing community, and was finally afforded the opportunity to do so in 2010, as he took a job as a News Reporter with Noticias 26 Univision.
Though Stout never envisioned himself becoming an elected official when he came to El Paso, public service and giving back to his community have been part of his life as long as he can remember. Whether it was planting trees in a burned forest, picking up trash on the side of the road or preparing and delivering meals on wheels to the elderly, his parents instilled in him the importance of caring for others and for one's community. Stout carried those lessons with him throughout his professional career and attributes much of the love he has for being a public servant to that upbringing.
During his time as County Commissioner, David has continued along that same path. He prioritizes issues such as affordable access to healthcare, serving our veterans, economic development, paying people what they deserve and quality of life.  He has proven that he is dedicated to helping as many people as possible within the community he represents and that he sincerely cares about the future of El Paso.
In the area of healthcare he worked tirelessly during his first year in office to find a solution to the problems El Paso Children's Hospital was facing, and helped bring the hospital under the wing of the County and University Medical Center, allowing Children's to continue its mission to serve so many youngsters here in El Paso, instead of having to send them away for treatment. His leadership as the Vice Chair of the Local Mental Health Authority, Emergence Health Network, has brought about positive changes not only in the direction in which the organization is moving and the goals they are setting for themselves, but also the creation of new programs such as Crisis Intervention Training for police officers, which will help them better understand the mentally ill when they come across situations in which they are involved.
Priorities
HONESTY • TRANSPARENCY • GOOD GOVERNANCE
Below is a list of the top priorities I worked on over the past three years as your Commissioner for Precinct 2.
Please click on each link to see a list of all of the amazing work we have done in each area.
CONTRIBUTE
HONESTY • TRANSPARENCY • GOOD GOVERNANCE
Let's Work Together
FOR A BETTER EL PASO!